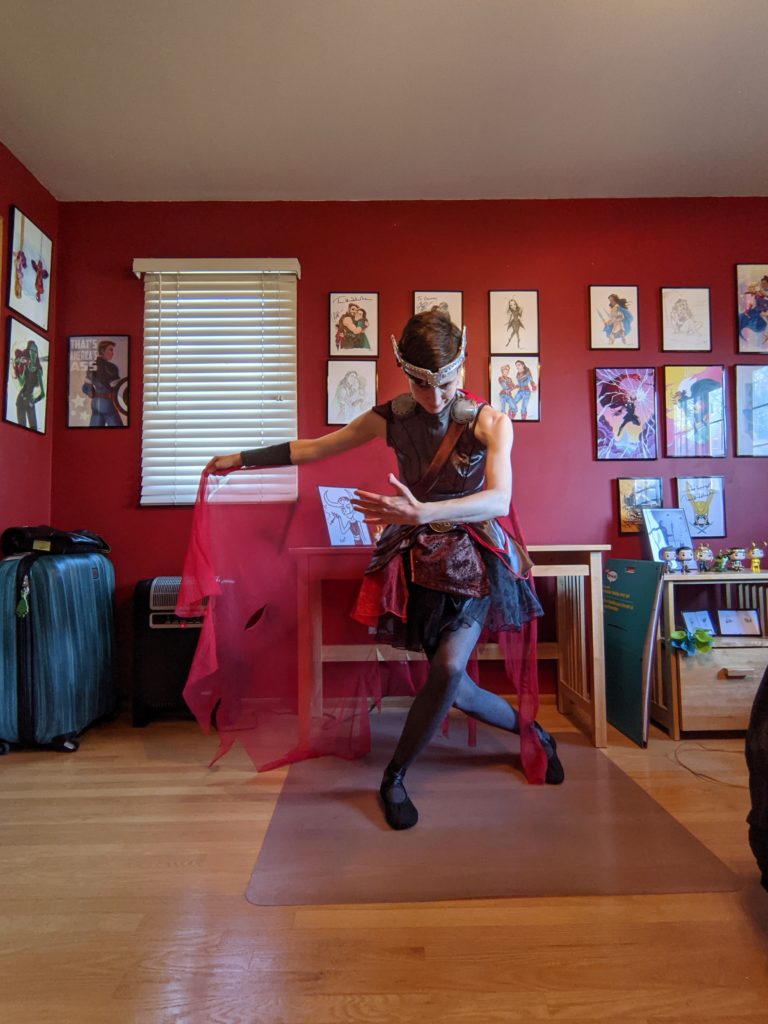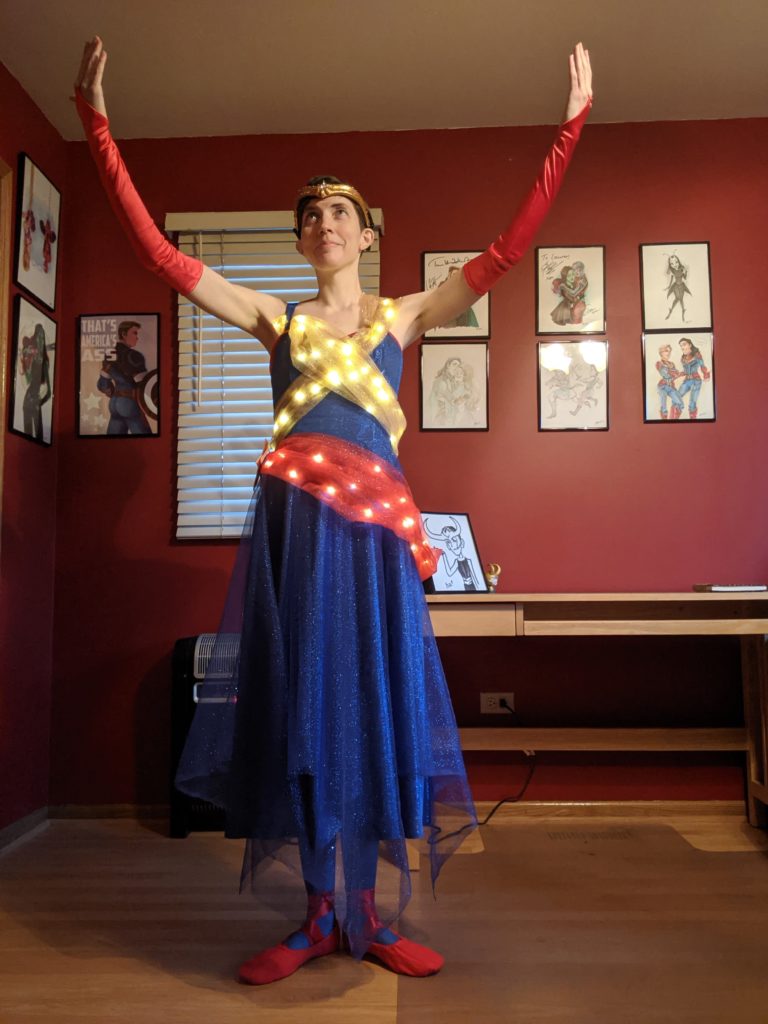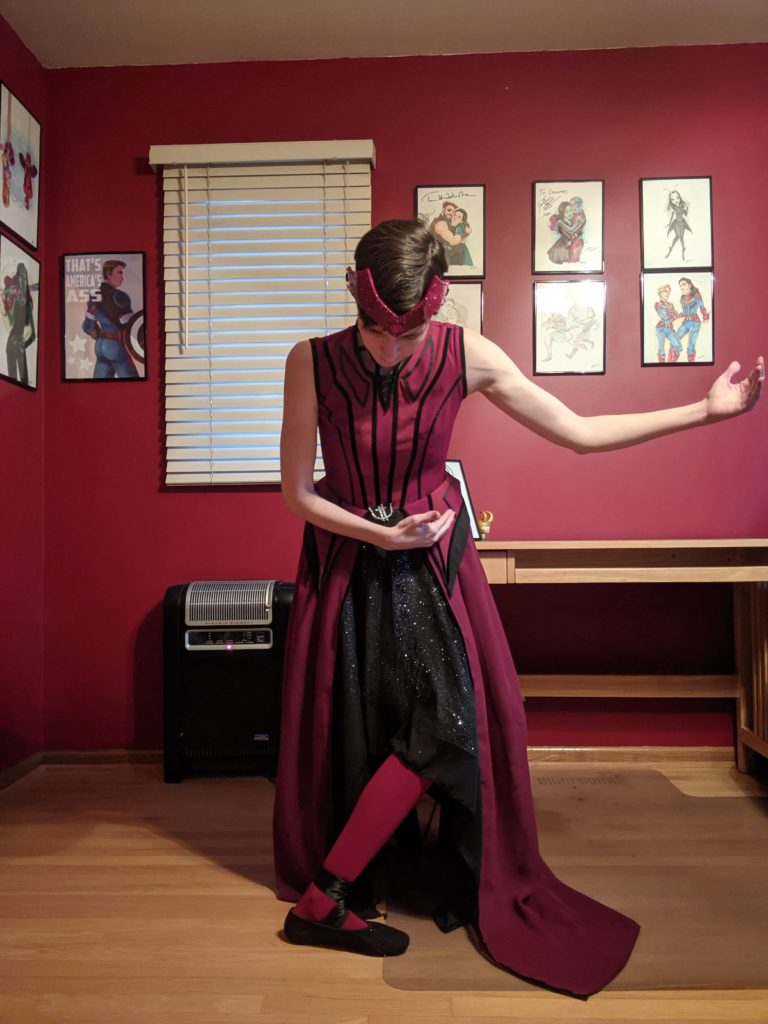 7 characters. 7 weeks.
When I first started putting Ballet Marvel together, my idea was to make it a fun project to help me overcome my discomfort with having my picture taken (I explained a little more in depth in the intro post to the project). It's funny looking back at that video because I remember once it was finished I dropped my head down and wondered how the hell I was going to get through seven weeks of this. I was shaking so much.
Then when the time came, I put on the Ballet Loki costume and I spun around, watching how the skirt swished, and I couldn't help but smile. I thought about all the ballets and Marvel movies I had watched throughout the pandemic. This project was going to be a love letter to them, among other things.
This may just seem like a silly little cosplay project, but the fact that I was able to do this (take so many pictures of myself and actually like some of them), is huge for me. That I had fun while doing so is something I never even thought possible.
Marvel and ballet helped me get through the worst of the pandemic. I want to take a moment to thank the artists behind both and the ones who helped me bring Ballet Marvel to life.
Thank you so much to my bestie, who was my rock during the worst days of the pandemic. Thank you for sharing your love of ballet with me and introducing me to the Royal Ballet and the phenomenal dancers of the company. I always look forward to watching ballets and rehearsals with you. Ballet Marvel is dedicated to you (love you!).
Thank you to my costumers, BeBaGo (Etsy, Facebook, Instagram) and Carol Datura Riot (Etsy, Facebook, Instagram). I was so lucky to find artists who are huge fans of ballet and just as excited about this project as me. The costumes and accessories you made, your phenomenal talent, made this project so special and made me feel so confident while wearing them. I could not be more grateful and look forward to our future collaborations.
Thank you so much to the Royal Ballet (Instagram: @royaloperahouse) for streaming so many amazing ballets throughout the pandemic. They provided much needed entertainment and wonder and awe while we were all trapped inside, scared and often bored. Thank you to all the casts and crew who come together to create such incredible ballets.
Thank you to the dancers I covered. Kristen McNally, Marcelino Sambe (@marcisambe), Alexander Campbell (@acampbell_1), Joseph Sissens (@joseph.sissens), Beatriz Stix-Brunell (@bstix_brunell), Edward Watson (@edwatson11), Anna Rose O'Sullivan (@annaroseosullivan) for sharing your art with the world. Watching your performances was often a lifeline during the worst days of the pandemic. Your dancing often reminded me of the joy and beauty in the world. It reminded me that the pandemic would eventually be over. Thank you.
Thank you so much to the actors who bring these incredible characters to life on the big screen: Tom Hiddleston (@twhiddleston), Chris Hemsworth (@chrishemsworth), Karen Gillan (@karengillan), Zoe Saldana (@zoesaldana), Brie Larson (@brielarson), Elizabeth Olsen, and Pom Klementieff (@pom.klementieff). Thank you to all the directors, writers, and crews who work so hard to bring these amazing movies to the big screen. They were a much needed comfort during a very difficult time.
Thank you to all the friends who offered words of encouragement. Thank you to everyone who reacted to these posts. It really means the world to me.
Ballet Marvel is also dedicated to my late friend, Billy, who always told me I was stronger than I realized. While I regret I'll never have a picture with my friend, I know he would have really loved Ballet Marvel. He would have loved to see me having fun and embracing myself as a whole and loving the person I have grown into. I'm really proud of that.
---
This isn't where Ballet Marvel ends. My artists and I are already in the progress of planning two additional characters who I really wanted to include but didn't have the time to squeeze in before my own self-imposed deadline. Those will debut in the spring/summer. Be sure to follow my blog and Instagram so you will see that when I post it.
I plan to bring some of these costumes to conventions with me, because they are truly stunning works of art. If you're going to attend SDCC, ECCC, or C2E2, I will be at all three shows and I will be wearing at least one (and possibly two) Ballet Marvel costumes. If you're going to be at a convention and want to see a particular costume, feel free to request it. These pieces are even more stunning in person and I love showing them off.
I'm also going to post a blog post this afternoon of the collected recommended links. If you are interested in learning more about ballet, that's a great place to start. Thank you so much to my bestie for helping me compile that.
I hope all of you enjoyed the show! Thank you for joining me 🙂